PCD Pharma Franchise in Andhra Pradesh – Eridanus Healthcare is a reputed ISO certified top pharma franchise company in India. Our company is a well know pharma marketing service provider of PCD and pharma franchise in India. We provide genuine business opportunities of medicines business. Our current offers are in the south-eastern region through PCD pharma franchise in Andhra Pradesh.
Our company would like to invite and welcome all those who are interested in genuine business of pharmaceuticals in Andhra Pradesh. We have 200+ range of drug formulation. We are an eminent name for neuropsychiatric, psychology and neurology drugs. If you are looking for affordable yet genuine deals in Andhra Pradesh then Eridanus Healthcare is the best for PCD pharma franchise Andhra Pradesh.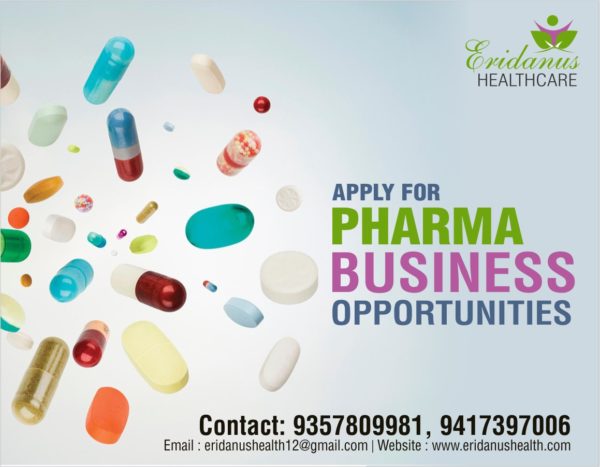 Our company offers you quality promotional tools like calendars, chemist pads, diaries etc. All the antibiotic medicines are verified by DCGI. We assure you monopoly right and wide area under control. To know more, you can contact at +91-9357809981 or +91-9417397006. You can email your queries at eridanushealth12@gmail.com. We welcome all the prospective people who are interested in the business deal here in Andhra Pradesh.
Top Pharma Franchise Company in Andhra Pradesh – Eridanus Healthcare
Based in the beautiful state of Punjab, Eridanus Healthcare is well known Pharma Company in India. Our company is ISO 9001:2008 certified pharmaceuticals company. We specialize in wide range of neuropsychology medicines around India. You get to own DCGI approved list of products of pharma PCD franchise in Andhra Pradesh.
Start your business with the top Pharmaceutical company in India. We are targetting Andhra Pradesh for PCD and Pharma Franchise business. Get the best quality medicines along with all the facilities and support from our end. We are leading name in Andhra Pradesh for Pharma PCD Business.
Enjoying a good consumer base in India and across the globe, we have the strong client base of 150+ PAN India. We have been appreciated everywhere for delivering professional services and quality drug formulation at most affordable rates. The company aims at promoting healthcare services. Thus, we have GMP-WHO certified units that are situated in the hygienic and ecological locations of India. They help us offer affordable rates of the medicines. We have used latest and best techniques to provide good output and cut costs.
Advantages Of  Pharma/PCD Franchise Business in Andhra Pradesh
Pharma franchise business is the best business opportunity. The business attracts good returns and profits for investors. The investments are low in comparison to another business format. You can start your own medicines business with small investment under the support of a good pharma company. The company will support you with attractive promotional inputs for marketing purpose. No other business gives better offerings than a PCD pharma franchise business. You cut many business expenses yet gain good profits and growth opportunities here.
We have good networking with the doctors and health professional all across the country. Join hands with us and get the chance to be the part of top Pharma Franchise Company in India. We are highly professional and strengthening our business in the pharmaceutical sector. Be our associates and set your business in Andhra Pradesh with the low investment and high return. Here you will get the products with the good profit margin.
Get the exclusive range of high-quality pharmaceutical products with the best price from the leading pharma company in India. Eridanus Healthcare works on making the sustainable relationship with its partners all over the country.
Scope Of Pharmaceuticals Business in Andhra Pradesh
Andhra Pradesh is a beautiful and eighth largest state by area in India. It is situated on the south-eastern coast of peninsular India. The state is said to be great potential hub by many. Many MNCs like Lupin, Johnson & Johnson etc have invested here. The government is keen to provide good support to the existing and flourishing businessman of the pharmaceuticals industry. The people of Andhra Pradesh are willing to pay for quality medicines. The demand for medicines is high and a PCD pharma franchise business is the best to start your own business.
Andhra Pradesh has the number of hospitals and healthcare clinic which creates a wide scope for PCD Pharma Franchise business in the state. Start your business successfully in the industry by being the part of the top Pharmaceutical company in India Eridanus Healthcare. We offer the excellent range of drugs and several other benefits which will help to grow your business successfully.
Target Locations Of Andhra Pradesh For PCD Business By Eridanus Healthcare
Andhra Pradesh is growing in terms of pharmaceuticals market value. Eridanus Healthcare is covering all the major cities like Visakhapatnam, Machilipatnam, Rajahmundry and Vijayawada etc. The investment plans start from Rs 50,000 and is very genuine for a good medicines business. Our company assures you to provide exclusive rights to your territories to earn the better income.
Visakhapatnam
Anantapur
Chittoor
Nellore
Krishna
East Godavari
West Godavari
Guntur
Kadapa
Kurnool
Prakasam
Srikakulam
Vizianagaram
Eridanus Healthcare offers you the best business opportunity. Start your business with Eridanus Healthcare make sure to provide the best marketing strategies along with the effective range of drugs to its associates. All the products meet requirements and available at the affordable prices. Eridanus Healthcare is known for offering high-quality pharma products for PCD Pharma Franchise business.
Customized List Of Products Offered At Eridanus Healthcare For PCD Pharma Franchise Business
Eridanus Healthcare offers you the opportunity to start your own business through pharma franchise. We welcome hard working and dedicated people around the nation who are looking for genuine business opportunities. We ensure you best quality neuropsychiatric, anti-scar range, nutraceuticals, CNS products, sexual wellness product & medicines for pharma franchise. Here is a list of products that we serve:
Tablets, capsules, softgels, pallets etc
Soaps, cream, ointments
Injectables
Sachets
Syrups and other liquid preparations
Powder etc.
Join hand with us and get the wide range of medicines with the effective quality. Start your business successfully with the leading pharmaceutical company and get medicines which are highly effective. We at Eridanus Healthcare focus on providing the medicine which is highly demanded in the market and also provide highly effective products.
Advantages of choosing Eridanus Healthcare for PCD Pharma Franchise Business in Andhra Pradesh
Our company has always maintained a benchmark of providing quality range of drugs formulations. Our clients to consumers have appreciated our work as a Pharma Franchise provider and quality medicines supplier in India, Our medicine are made using effective techniques and drug composition. Experts from various pharma fields have helped us combine and formulated drug formulation for better results and efficacy. Here are the benefits of choosing us:
Quick delivery
Attractive promotional tools support
Handsome incentive schemes
Gifts for doctors etc.
So, grab your phone and give us call or drop us a mail. Our contact details are given below. Start your business with us successfully and get the wide range of drugs from our end. Eridanus Healthcare provide you the best chance to your own boss with the help of low investment. With us you are can stsrt your successfull ethical business and get the best quality range of drugs.
Contact Information
Name: Eridanus Healthcare
Address: MCB -Z-5-05560, Street No.10/5, Bala Ram Nagar Pin code: 151001
Contact Us: 9357809981, 9417397006
Email us: eridanushealth12@gmail.com
Eridanus Healthcare is trusted and most reliable name in the pharmaceutical sector. This is the best opportunity for the pharma professionals to start their own successful business in the pharma industry. The Company is offering its Pharma PCD Franchise in Andhra Pradesh this time. Do not miss the opportunity to be the part of this amazing pharmaceutical company.